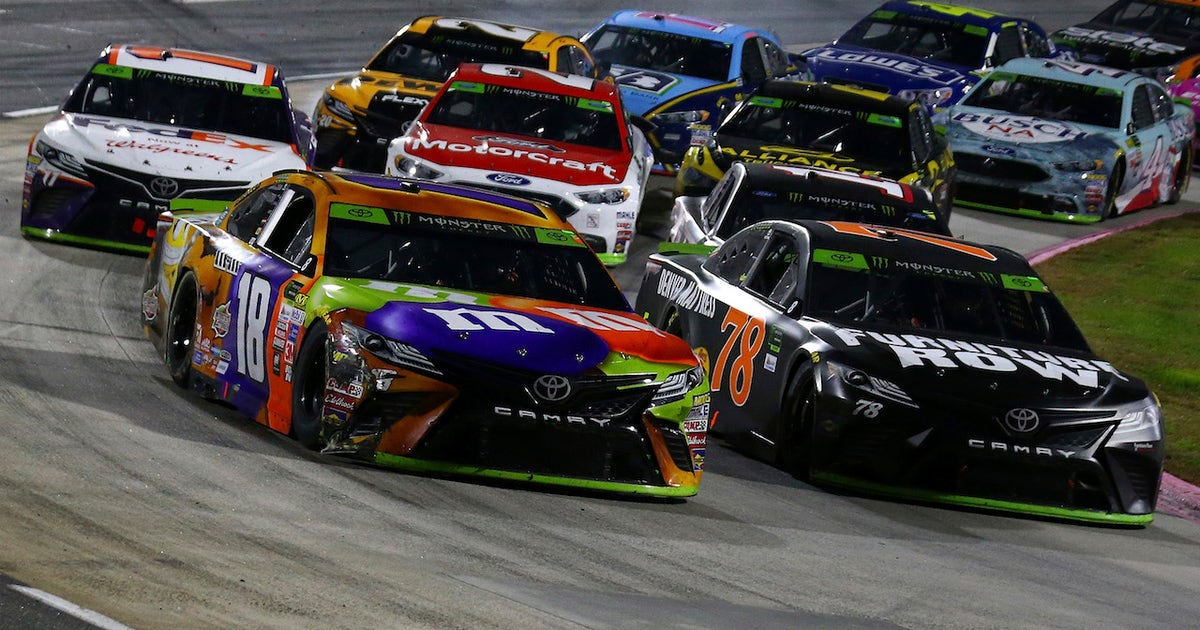 – When you're looking at the 4 or the 18 and the 78, is this more of an equalizer for you guys?
– Oh, absolutely because it takes away all the aerodynamics of the car. When you're at such a small track and the air's flowing over the car much slower– and you know this is true– the aerodynamics don't mean as much. That doesn't mean they don't mean anything because you definitely need the air to cool the brakes and all those things, but they don't mean nearly as much. And I think that puts the car more in the drivers hands. I think it puts the race in more in the crew chiefs hand with the setups on race cars.
– There are a number of drivers that have put up big numbers at Martinsville, and we just saw how good both Brad and Kyle are there. But from the crew chiefs side, how do you manage 500 laps at this place? Because inevitably, no matter how good your car is, at some point throughout the afternoon you're going to face some difficulties.
– Exactly. And that's one thing, I think, you take away when you look at the teams that have been successful there in the past. The car changes in 500 miles– or 500 laps at Martinsville. It goes through a lot of transitions. The first 200 laps, then the second 200, then the last 100, and you have to make those adjustments and keep up with it.
And when you've had success there in the past you get a good notebook built up. Hey, the tracks going to start tightening up here. It's going to free back up here. When it lays rubber, it does this. Usually on Friday, if we're doing this, on Sunday we're getting something different. So when you get those notebooks built up, like the 2 and the 18 some of these guys have, it leads to success year after year.
– When you look at the restarts this past Sunday and where you could go anywhere you wanted and now we're going to Martinsville, do you feel like you're walking through a crowded hallway?
– Martinsville restarts are just, phew.
– Like someone's always leaning on you?
– Yes, yes.
– [LAUGHS]
– It's like boarding an airplane. You know, the [INAUDIBLE]. I just want some space. Give me some space.
– When you look down the aisle and you see that guy coming and you're like, oh my gosh. He's sitting right there.
– Exactly. See, you know how that feels, right?
– Yeah.
– But that's part of the challenge. That's part of what makes Martinsville special, not just for the drivers but also for the fans, is there's a lot of rubbing. There's a lot of beating up against other cars, and that can be really tough. And it's a huge test for the cars. One, to hold up, but for the drivers mentally to be able to hold up.
– But the one real benefit you've had there is your teammate has also been good. You and Joey have been good together. So I call them games. That might not be what you call it, but the way you guys work together to manipulate those restarts to maintain track position.
BRAD KESELOWSKI: You're absolutely right. You look at Joey Logano, and you see this clip here of a restart where we were able to work together. He has qualified, I feel like on the pool at Martinsville, in four or five of the last races in a row. He is just so, so good there in qualifying. And so he starts up the front, he gets a great pit stall, and seems like every time we have a restart he gains two or three spots on pit road. And even if he was fourth he's now back on the front row, and he does a masterful job there.