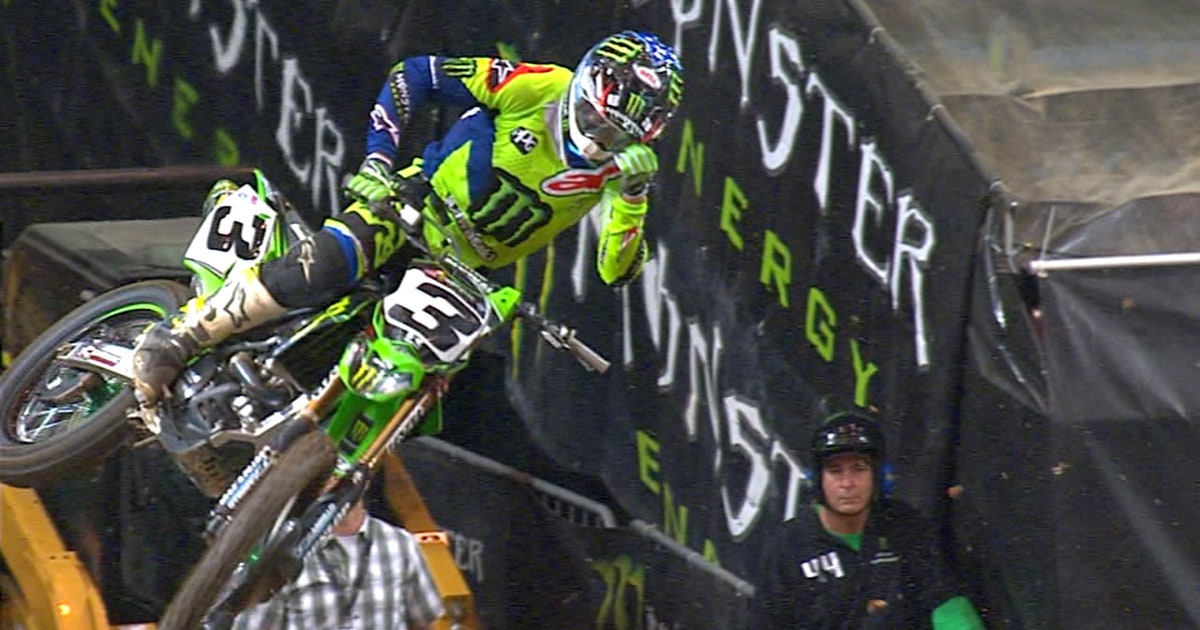 ANNOUNCER 1: Here we go from St. Louis. Oh, Anderson with a good start, but not as good as Tomac.
ANNOUNCER 2: Tomac is wide.
ANNOUNCER 1: Anderson tried to get inside of it. No, Tomac gets the whole shot. They're bar to bar, though, as they rip through this rhythm lane. Oh, Anderson with a mistake. Tomac trying to check out. And behind them come a pair of KTMs. Musqin on the 25, Tickle on the 20.
ANNOUNCER 2: Chad Reed coming up in here too, the birthday boy. And 36 fighting, trying to get into the top 10.
ANNOUNCER 1: Oh, no, Reedie.
ANNOUNCER 2: The Australian off the bike.
ANNOUNCER 3: Bower just stuck the front wheel of the Kawasaki in there and stood him up.
ANNOUNCER 1: Watch this again.
ANNOUNCER 3: It jumps past him here. Oh, yeah, well. Bowers spent a lot of time in that Amsoil Arenacross championship where rough riding was just a normal thing. Gave him a little bump there, and Chad Reed got the short end of the stick on that one.
ANNOUNCER 1: Tomac continuing to lead over Anderson and Musquin. Those three have been at the podium twice this year, at Tampa, where it was Tomac, Musqin, and Anderson. And then at Atlanta where it was Anderson, Musqin, and Tolmac.
ANNOUNCER 3: Here's Anderson, nine and 1/2 seconds back. Musqin will be next. Here he comes on the Red Bull KTM.
ANNOUNCER 1: Tomac back on the right. And Jeff, let me get back to the troubles he's had this year. 22nd at the season opener. Did not race at Houston. 13th in Oakland. 22nd at San Diego. That's 92 potential points he's lost this year.
He trailed Anderson by 63 coming into tonight. And he's gained a couple, if he can hang on for the win, with Anderson running in second. But he could be the points leader.
ANNOUNCER 2: Yeah, I mean, could have, would have, should have.
ANNOUNCER 1: Right, he just lapped eight points here as he gets around Wilson.
ANNOUNCER 2: Yeah he has got over a 14-second lead right now on Jason Anderson.
ANNOUNCER 1: That is what Eli Tomac has to fix if he wants to be a Monster Energy Supercross champion. The crowd on their feet here in St. Louis. Enjoying the performance of one of the biggest stars of the sport.
Eli Tomac has thrilled them with another outstanding performance, and on St. Patrick's Day in St. Louis, the rider in green on the green Kawasaki lights the candles and celebrates another victory. As he he takes it here in St. Louis, his fourth victory of the. Year
BROADCASTER: What worked so well tonight? And how do you continue to have this speed and finish out the year this way?
You know, from the start of the day, I just– I felt like I was on. There are days where you are just on, and felt awesome all day. We were quickest in the last practice. Was a little bit behind on the heat race start, and then once I was able to make my way forward. So went back, regrouped.
Left my motorcycle alone tonight. Went out there, pulled the whole shot, and ran away with it. And that's the way we like to do it. So thank you to Monster Energy, Kawasaki, Alpine Stars Bell, Oakley PPG. These are the nights we like.